Available High Definition Television and Video Production Equipment
Cameras: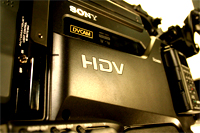 •Sony HDW-F900 Cine Alta
•Sony HVR – S270U HDV
•Sony Beta SP BVP 600 w/ Nikon Wide Angle lens
•2 x Sony Beta SP BVP 550 w/ Nikon Wide Angle lens
Gear:
•12'x12' Overhead Set w/ Solid, Silk, Double Net, Single Net, w/ highboy stands
•22' Jimmy Jib camera crane
•Matthews Doorway Dolly
•800, 400, 250 Kobold HMI lights.
•Teleprompter – on location or studio
•3 Channel Audio mixer w/ boom
•Multiple wireless Lavalier Microphones
•Remote battery power supply
•Portable Green Screen/ and other backgrounds
•Sony HD Field Monitor
Facilities:
•Avid Media Composer Adrenaline HD Suite
•Avid Express Pro Suite
•Adobe Premier Suite
•Adobe CS3 – After Effects, Photoshop, Illustrator, Audition
•3D Studio Max by Autodesk
•25' x 30' studio with law library background and Chroma Key green screen
•3 camera switching for live to tape studio productions
•Voice Over sound booth with Adobe Audition, and Sound Forge
•Closed Captioning
•Electronic :30sec spot delivery
•Complete Satellite and Vyvx uplink/feed capabilities
•DVD authoring, printing, duplications
•Secure Gated parking
MVP owns its own cameras and production gear. This means we stand ready, at a moment's notice, to provide crew hire services, or productions of any type. HD and Standard Definition broadcast quality cameras with experienced professional crews are at your service. We can also rent any equipment your production requires to get the shot that best tells your story.